Participated in the Independence Day celebrations of the Republic of Colombia
July 21, 2023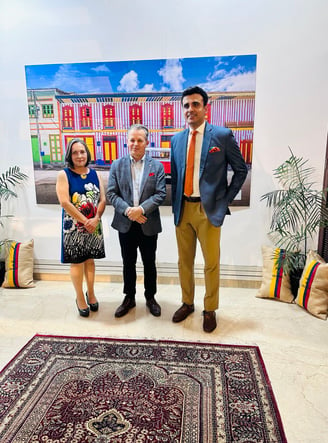 Chamber India joins Colombia in celebrating their glorious Independence Day!
President & CEO of ChamberINDIA Mr. Abhinav Balyan greeted Ambassador H.E. Dr. Victor Hugo Echeverri Jaramillo at the celebrations hosted by the Embassy of Colombia.
Bilateral trade in 2020- 21 stood at USD 2.27 billion, growing by approx. 22% over the trade in 2019-20. In 2021-2022, bilateral trade stood at USD 4.34 billion, increasing by over 50% from that in the preceding period.
Colombian investment in India is estimated to be approximately USD 5 million and Indian investment in Colombia is estimated to be USD 300 million. Indian investment in Colombia is mainly in the oil, automobile, agrochemicals, IT and pharmaceuticals sectors.