Meeting with H.E. Ms. Sofía Salas Monge, Chargé d'Affaires of the Embassy of Costa Rica
Feb 27, 2023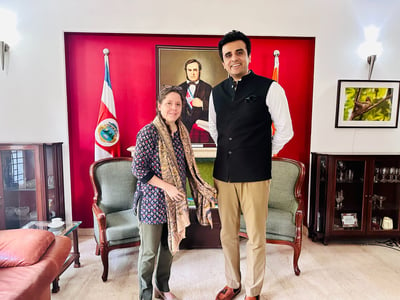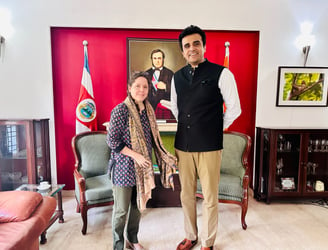 Bringing India and Central America closer through strategic dialogue and engagement, President Mr. Abhinav Balyan met the Chargé d'Affaires of the Embassy of Costa Rica H.E. Ms. Sofía Salas Monge.
India's expertise in software development and IT services can complement Costa Rica's growing tech industry. Potential collaboration between India and Costa Rica in the IT sector to foster knowledge-sharing, innovation and technology transfer was discussed.
India's growing demand for timber can be met by Costa Rica's sustainable forestry practices and timber production. Discussions included potential collaborations to establish a reliable supply chain that benefits timber importers in India and supports the forestry industry in Costa Rica.
India and Costa Rica share a common love for nature and adventure. Opportunities in the tourism sector to promote knowledge-sharing, foster people-to-people connect and facilitate cultural exchange was discussed.
The establishment of a strong automobile trade between India and Costa Rica to cater to the evolving needs of consumers in Costa Rica was also discussed during the meetings.