H.E. Ms. Pattarat Hongtong, Ambassador of the Kingdom of Thailand at Chamber India event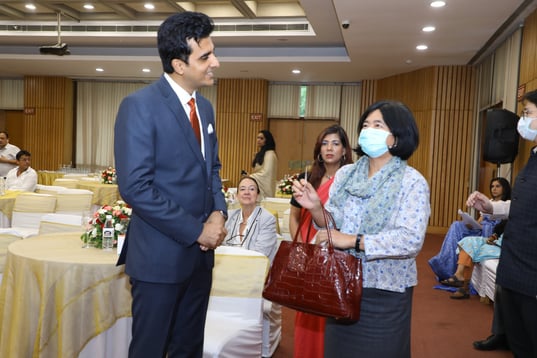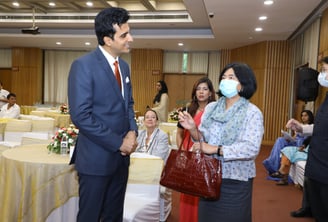 President of Chamber India Mr. Abhinav Balyan met with H.E. Ms. Pattarat Hongtong, Ambassador of the Royal Thai Embassy at an event hosted by the chamber.
India's relations with Thailand are rooted in history, age-old social and cultural interactions and extensive people to people contacts. It is, an important partner for India in the India-ASEAN Summit Level Partnership, the East Asia Summit (EAS), the Bay of Bengal Initiative for Multi-Sectoral Technical and Economic Cooperation (BIMSTEC), the Mekong Ganga Cooperation (MGC), Asia Cooperation Dialogue (ACD) Indian Ocean Rim Association (IORA) and Ayeyawady-Chao Phraya-Mekong Economic Cooperation Strategy (ACMECS).
Thailand views India as the gateway to South Asia and beyond. As a result of the reduced tariff rates and new initiatives adopted by both the countries, trade between two countries increased manifold in recent years. In 2020, despite the pandemic situation, the trade figures stood at US$ 9.76 billion. In 2021, it reached a record high of around US$ 15 billion.
The total number of people of Indian origin in Thailand is estimated to be around 175,000 and 20,000 NRIs, majority of whom are concentrated in Bangkok.