H.E. Ms. Martine Aamdal Bottheim, Deputy Head of Mission of Norway at Chamber India event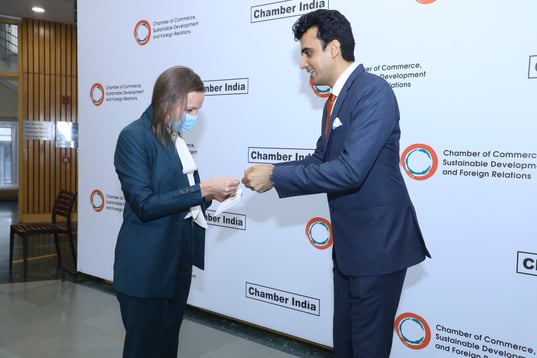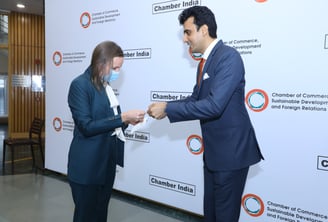 President of Chamber India Mr. Abhinav Balyan met with H.E. Ms. Martine Aamdal Bottheim, Minister Counsellor and Deputy Head of Mission of Norway at an event hosted by the chamber.
India and Norway established bilateral relations in February 1947. H.E. Ms. Anniken Huitfeldt, Hon'ble Minister of Foreign Affairs of Norway, along with a business delegation, visited India on 25-27 April 2022. During the visit, the Foreign Minister announced that Norway will become a member of the International Solar Alliance (ISA).
India and Norway have signed MoUs/Agreements covering trade and economic relations, avoidance of double taxation of income, prevention and mitigation of geo-hazards, culture, education including higher education, academic research and collaboration, exchange of faculty and students between universities, training of diplomats, science and technology, fisheries, local governance, social security, cooperation in banking supervision, health research, exemption of visa for diplomatic passports, scientific and technical cooperation, earth system sciences, defence research and development, geotechnical engineering and material sciences, roads and highways, ocean dialogue and blue economy.
FDI inflows from Norway through RBI/FIPB during April 2000 to December 2019 amounted to Rs.1,632.63 crores (US$ 280.88 million) and were in the sectors of power generation, financial services, food processing, maritime, aquaculture and IT. Over 140 Norwegian companies are engaged in India either through joint ventures with Indian partners or through wholly owned subsidiaries.
The Indian community in Norway number around 26,900 out of which 19,135 are PIOs and 7,765 are NRIs.