H.E. Mr. Lukmon Bobokalonzoda, Ambassador of Tajikistan at Chamber India event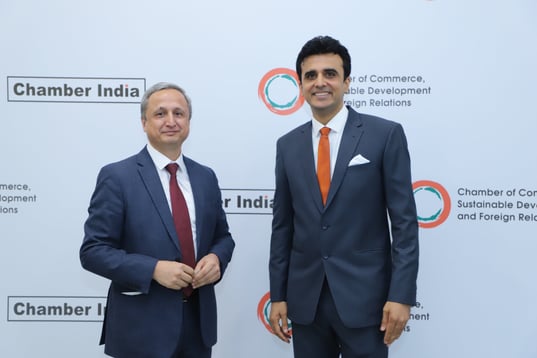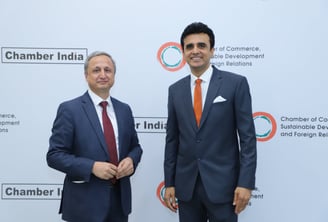 President of Chamber India Mr. Abhinav Balyan met with H.E. Mr. Lukmon Bobokalonzoda, Ambassador of Tajikistan at an event hosted by the chamber.
Since the establishment of diplomatic relations on 28 August 1992, regular high level visits between the two countries have further cemented the bilateral ties. Deep rooted historical and cultural linkages have helped expand and widen the relationship to a new level.
President Shri Ram Nath Kovind paid a State Visit to Tajikistan on 07-09 October 2018. During the visit, President announced a grant of USD 20 million for Tajikistan for projects mutually agreed upon by the two sides. A total of 08 MoUs/agreements were signed in the following areas– (i) Peaceful Use of Space Technology, (ii) Disaster Management, (iii) Renewable Energy, (iv) Youth Affairs, (v) Agricultural Research and Education, (vi) Unani Medicine, (vii) Programme between Foreign Ministries for 2018-21, (viii) Cultural Exchange Programme for 2019-23.
Dr. S. Jaishankar, External Affairs Minister of India visited Tajikistan from 16-17 September, 2021 to attend the 21st Meeting of the SCO Council of Heads of States and joint meeting of the SCO-CSTO Outreach on Afghanistan. He also had a meeting with President Rahmon during the visit.