H.E. Mr. Hugo Javier Gobbi, Ambassador of Argentina at Chamber India event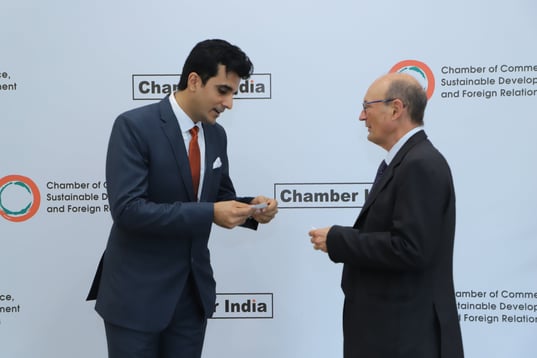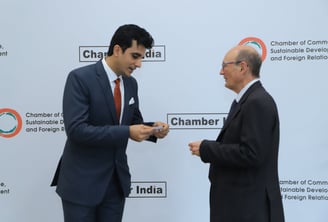 President of Chamber India Mr. Abhinav Balyan met with H.E. Mr. Hugo Javier Gobbi, Ambassador of Argentina at an event hosted by the chamber.
India-Argentina relations were elevated to the level of Strategic Partnership during the State Visit to India of President of Argentina in February 2019. Several Indian companies have established operations in Argentina with a total investment of over USD 1 billion.
The India-Argentina bilateral trade registered a historic peak of USD 5.7 billion in the year 2021, with a growth rate of 72% over 2020, with USD 1.4 billion worth of exports from India to Argentina and USD 4.3 billion worth of imports by India from Argentina. India became 4th largest trading partner of Argentina in 2021. As per DGFT, India-Argentina bilateral trade during the fiscal year 2021-22 was USD 5.63 billion (an increase of 70.1% over 2020-21), with India's exports to Argentina valued at USD 1.43 billion registering a growth of 107.3% over exports in 2020- 21 and Argentina's exports to India valued at USD 4.20 billion.
Major items of India's exports to Argentina include petroleum oils, agro chemicals, yarn-fabric-madeups, organic chemicals, bulk drugs and two wheelers. Major items of India's imports from Argentina include vegetable oils (soya bean and sunflower), finished leather, cereals, residual chemicals and allied products and pulses.