H.E. Mr. Asein Isaev, Ambassador of Kyrgyzstan at Chamber India event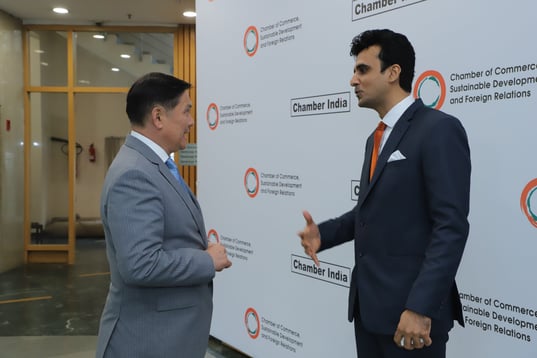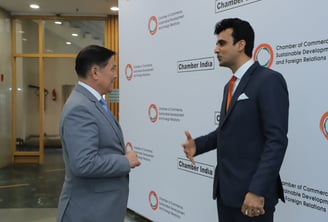 President of Chamber India Mr. Abhinav Balyan met with H.E. Mr. Asein Isaev, Ambassador of Kyrgyzstan at an event hosted by the chamber.
Following the independence of Kyrgyz Republic on 31st August, 1991, India was among the first countries to establish diplomatic relations on 18th March 1992. Bound by historical and civilizational links, political ties between India and the Kyrgyz Republic have traditionally been warm and friendly. India and Kyrgyz Republic are Strategic Partners.
Prime Minister Shri Narendra Modi attended the Council of Heads of Government of SCO Member States Summit which was followed by an official visit to the Kyrgyz Republic on 13-14 June 2019. . Fifteen bilateral agreements/documents including a Bilateral Investment Treaty, Protocol amending Agreement on Avoidance of Double Taxation and Fiscal Evasion, MoU on cooperation in Health, Information and Communication Technology, and Defence Cooperation were signed. In addition to the above, Joint Statement on Strategic Partnership and a five-year roadmap for Trade and Economic cooperation were adopted during the visit.
India-Kyrgyz Republic bilateral trade during 2021 was US$ 46.81 million. India's exports to the Kyrgyz Republic was US$ 42.66 million while the imports of India from the Kyrgyz Republic was US$ 4.15 million. Indian exports registered a growth of 53.70% on year-to-year basis.