H.E. Dr. Shankar Prasad Sharma, Ambassador of Nepal at Chamber India event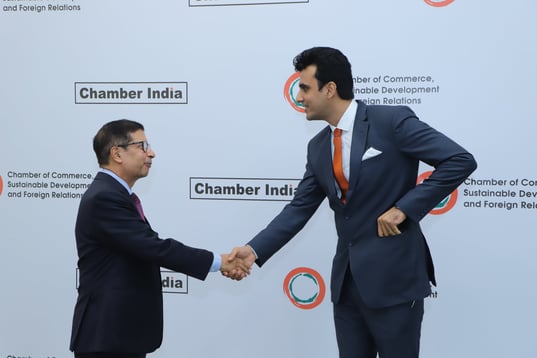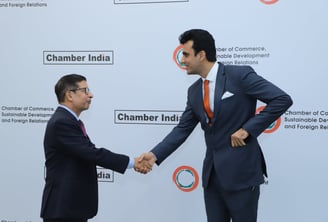 President of Chamber India Mr. Abhinav Balyan met with H.E. Dr. Shankar Prasad Sharma, Ambassador of Nepal at an event hosted by the chamber.
The India-Nepal Treaty of Peace and Friendship of 1950 forms the bedrock of the special relations that exist between India and Nepal. Nepalese citizens avail facilities and opportunities on par with Indian citizens in accordance with the provisions of the treaty. Nearly 8 million Nepalese citizens live and work in India.
India is the largest trading partner of Nepal. Total bilateral trade in 2018-19 reached INR 57,858 cr (US$ 8.27 bn). In 2018-19, while Nepal's exports to India stood at INR 3558 cr (US$ 508 mn), India's exports to Nepal were INR 54,300 cr (US$ 7.76 bn). Nepal's main imports from India are petroleum products; motor vehicles and spare parts; M. S. billet; rice & paddy; other machinery & parts; medicine; hot-rolled sheet in coil; electrical equipment; cement; agricultural equipment & parts; coal; m.s. wires, rods, coils, bars; vegetables; cold rolled sheet in coil; thread, etc.