H.E. Archil Dzuliashvili, Ambassador of Georgia at Chamber India event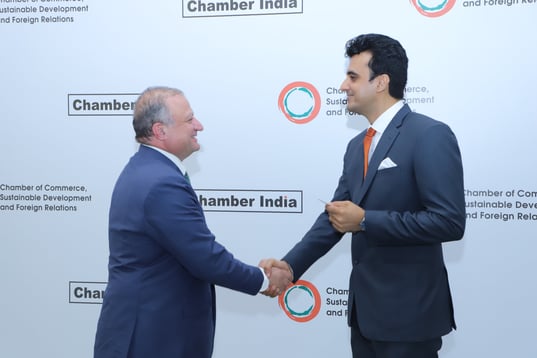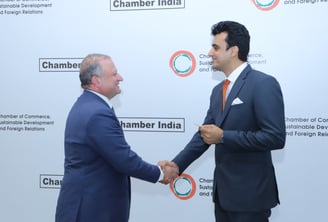 President of Chamber India Mr. Abhinav Balyan met with H.E. Archil Dzuliashvili, Ambassador of Georgia at an event hosted by the chamber.
India recognized Georgia on 26th December 1991. Formal diplomatic relations were established on 28th September 1992. India's Ambassador to Armenia with residence in Yerevan (Armenia) is concurrently accredited to Georgia. The First Resident Ambassador of Georgia to India arrived in New Delhi on 25th February 2010.
Bilateral trade was USD 57 million in 2017. Exports from India were USD 48 million and imports USD 9 million. Steel, infrastructure, agriculture farming and service sectors are among sectors of large Indian investment which amounts to over USD 400 million. Individual investors from India have acquired agricultural land for cultivation in Georgia at an average of 10 hectares of landholding.
A joint feasibility study was launched in April 2017 by the Ministry of Commerce and Industry of India and Ministry of Economy and Sustainable Development of Georgia to explore possibilities of signing a Free Trade Agreement between India and Georgia. The report of the joint feasibility was accepted and a Protocol was signed on 11 January 2019 in Tbilisi. Now both sides have constituted a Joint Working Group to discuss the Free Trade Agreement between the two sides. The Indian side is co-chaired at Joint Secretary level in Department of Commerce.