Exploring collaboration with H.E. Mrs. Deliwe N. Mumbi at the Zambia High Commission
Mar 03, 2023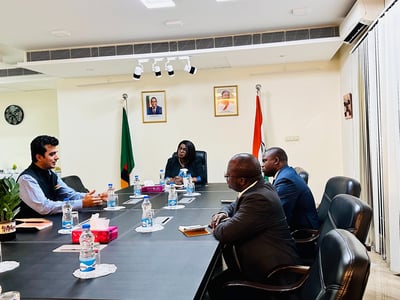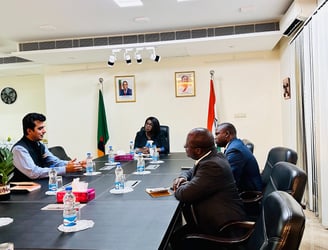 Exploring various frontiers of collaboration between India and Africa, President of Chamber India Mr. Abhinav Balyan met with the Acting High Commissioner H.E. Mrs. Deliwe N. Mumbi, at the High Commission of Zambia.
India has made significant strides in the field of renewable energy and is now a global leader in this space. The possibility of sharing India's expertise in this field with Zambia and collaborating on joint projects to promote clean energy were discussed.
President Mr. Balyan highlighted India's expertise in agriculture and suggested the exchange of knowledge and best practices between India and Zambia. Development of agro-processing industries and the promotion of trade in agricultural products were discussed.
The discussions also highlighted the potential for greater collaboration between India and Zambia in the field of tourism. Development of tourism infrastructure and the promotion of cultural exchange programs to further enhance the tourism sector were discussed.