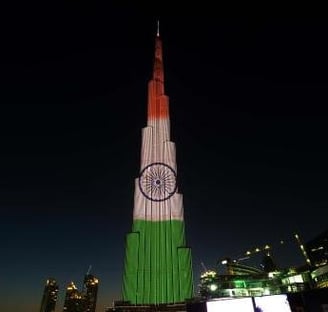 Indian expatriate community of approximately 3.4 million is the largest ethnic community in UAE constituting roughly about 35 per cent of the country's population. 15% of the diaspora is in the Emirate of Abu Dhabi and the rest in 6 Northern Emirates including Dubai.
The stability and strength of a fast broadening and deepening bilateral relationship between India and the UAE are aided by expanding economic and commercial ties. The bilateral trade between India and UAE is worth $59 billion, making the UAE India's third largest trading partner in 2019-20. UAE is also India's third-largest export market, receiving close to US$16 billion in exports from India in 2020–21.
The United Arab Emirates is a country in the Middle East that borders the Gulfs of Oman and the Persian Gulf. It is strategically located along the southern approaches to the Strait of Hormuz, a transit point for world crude oil. India and the UAE established diplomatic relations in 1972. While the UAE opened its Embassy in India in 1972, the Indian Embassy in the UAE opened in 1973.