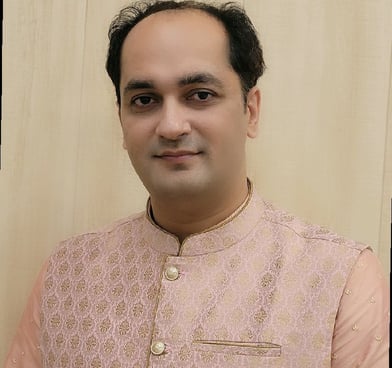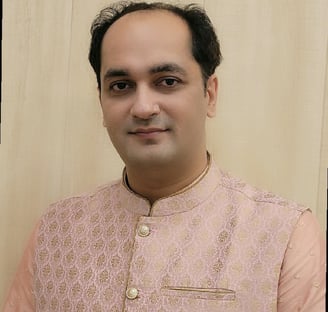 Dr Saurabh Sharma is the medical chief of the Maharishi Ayurveda Hospital in India and an expert for patient-specific Ayurveda treatment. Dr. Saurabh Sharma is esteemed not only for the success and effectiveness of his treatments but also for his strong commitment concerning all of Maharishi Ayurveda. It is this commitment that earned him the Bhartiya Chikitsak Ratna Award as best Ayurveda doctor. Dr. Saurabh Sharma has often been a guest on Indian television and regularly publishes articles in leading newspapers, blogs and on the internet. His focus includes pulse diagnosis, nutrition and lifestyle, panchakarma therapies and rasayanas as well as herbal remedies.
Dr. Sharma is an Nadi Parikshan(Pulse Diagnosis) expert and regularly visits many countries for Ayurveda Consultations . He is also a teaching faculty at various national and international leading medical universities. He also conducts workshops on Ayurveda at many international ayurvedic centers. He is invited by various ayurvedic organizations and is a key note speaker in many conferences worldwide for seminars, workshops, Ayurvedic consultations, lectures, patient examinations and pulse diagnosis. He is also a name of fame globally as he has worked with many channels in quite some European countries for spreading awareness about Ayurveda.
Dr. Sharma has also worked with many NGOs like 'Help Rural India' and 'Anugraha' and has always been keen towards serving the society. He also runs a charitable OPD where he not only provides free consultation but also free medicines distribution.
Awarded as best Ayurveda physician in India award 'Bharitya Chikitsak Ratna Award'.

Awarded with 'Dr. Mr Popular'

Covid award- Corona Warrior Award

Visiting professor to various internationally acclaimed universities round the globe like Oncology Institute of Slovenia, Summerweils University of Hungary, and MERU of Netherlands etc.

One of the 5 best ayurveda physicians in New Delhi, the capital of India.

Featured in many TV Programs, YouTube Podcasts, Health Shows, Exhibitions, Internal Seminars and Summits