Awarded as the Best Performing Project Implementing Agency at CXO Conclave 2023
July 08, 2023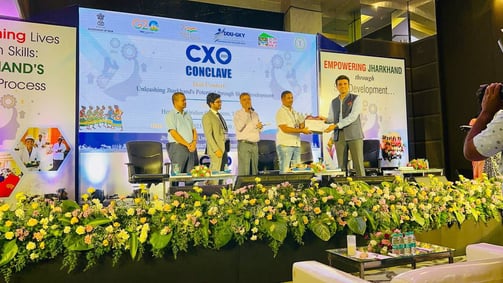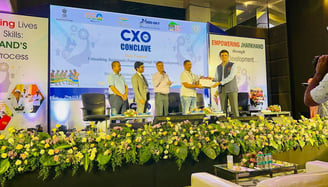 We are proud to announce that our partner, EduExl has been awarded as the Best Performing Project Implementation Agency at CXO Conclave 2023.
ChamberINDIA has joined hands with EduExl to build a brighter future for 100,000 rural women by 2030.
Together, we'll focus on:
✨ Skilling
📚 Reskilling
🚀 Upskilling
(In Picture) Our President & CEO Mr. Abhinav Balyan receiving the award from Shri Chandra Shekhar, Secretary, Rural Development Department, Government of Jharkhand, Shri Suraj Kumar, CEO, Jharkhand State Livelihood Promotion Society, Shri Santosh Kumar Tiwari, Joint Director, Ministry of Rural Development, Government of India and industry partner Gokaldas Exports.